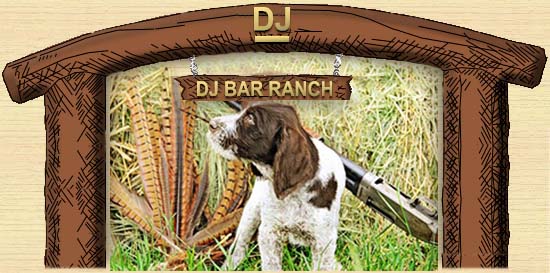 German Wirehaired Pointers
5155 Round Mountain Road, Belgrade, MT 59714
(406) 581-7443

info@djbarranch.com

PLANNED LITTERS: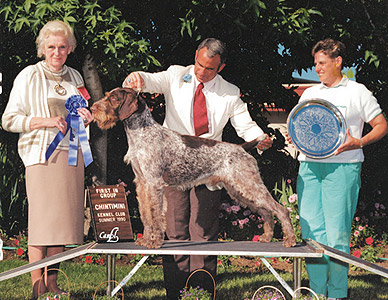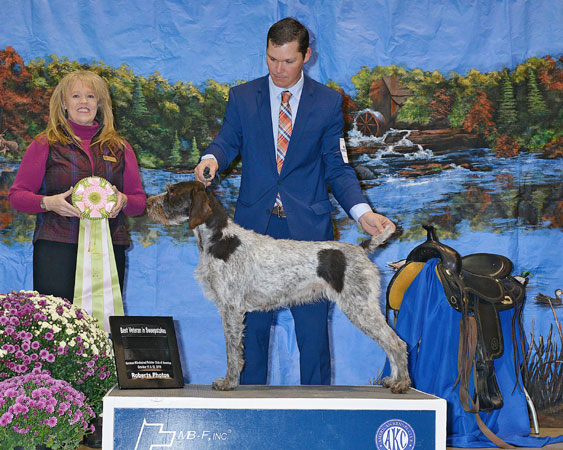 CH C Wobegon Warrior x CH Chantilly Lace MH RN DMX III AM CGC TKI RATN VX NAVHDA NA1 Utility 111
Pups due June 2020.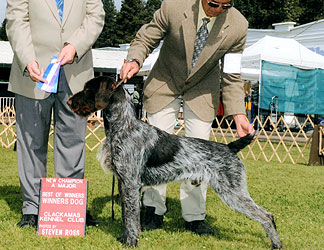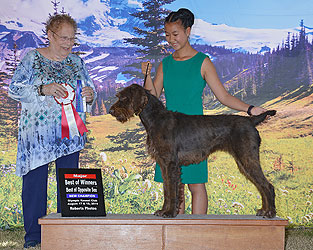 CH Tovas Berlin(Berlin) x CH DJ Bar Purple Rain NA 1 (Rainy)
Pups should be ready about the middle of May 2020
Planned Breeding: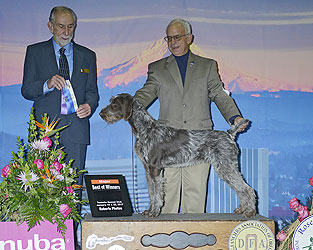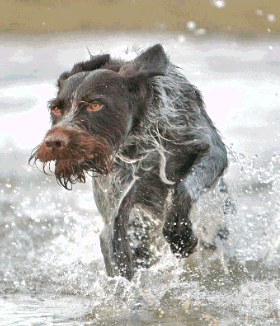 CH Hiltops English Ivy With planned breeding to VC Griffs Viking Chewbacca

CURRENT LITTERS:
Lots of current pictures posted on our facebook page! Click here to view.
Watch for news on upcoming litters. When looking for a GWP most breeders have their pups sold before they are ready to go. So if the GWP is the breed you want I really recommend you pick the breeder you want to work with and put a deposit down early to get the pup you want!

PAST LITTERS: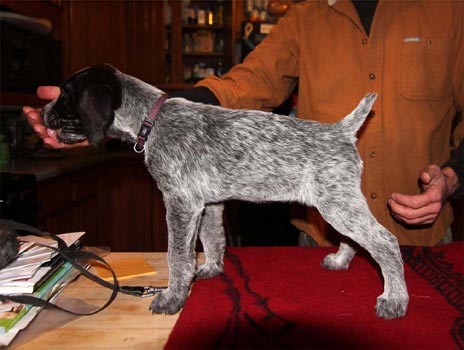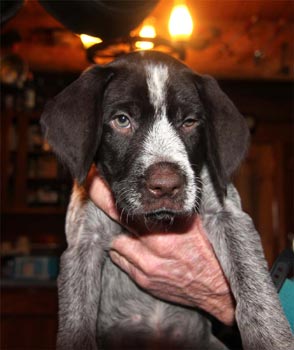 Female pup Born Oct 29th
by VC Griffs Xplosive Grizzlie and Priscilla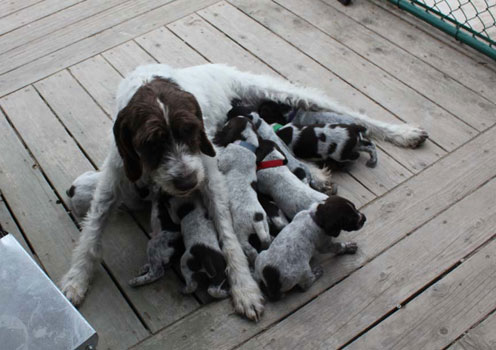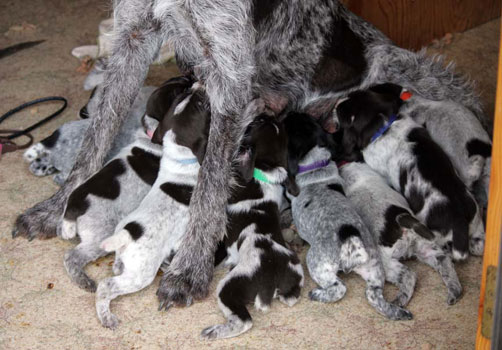 PUPPIES BORN MARCH 28. 2014
out of Priscilla and Dozer
Click here to view litter pedigree (will open in new window)
ALL OF THESE PUPPIES ARE SOLD.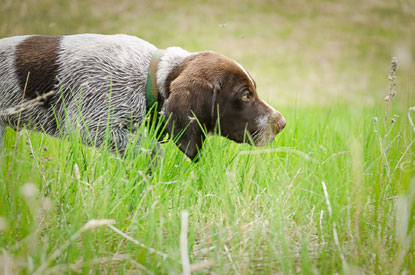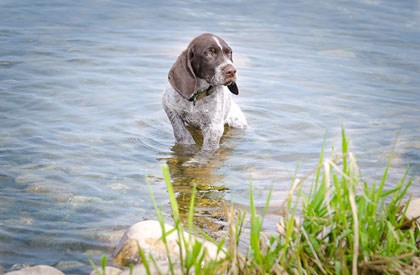 This is Gratts, living in Calgary Alberta from Priscilla's last litter.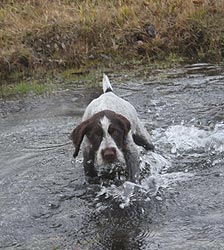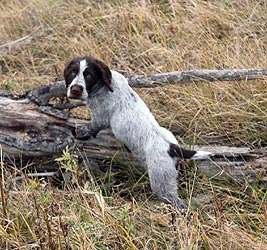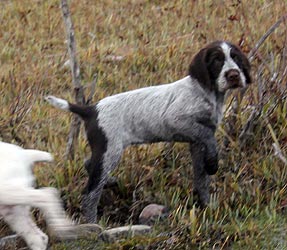 "Sprig Of Tyme"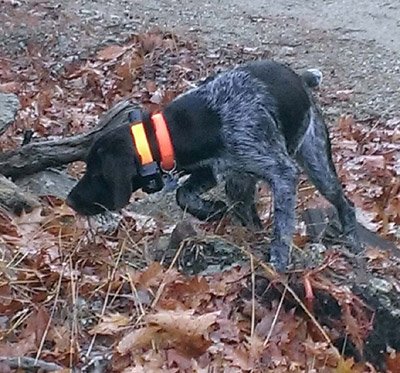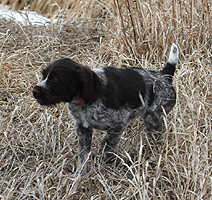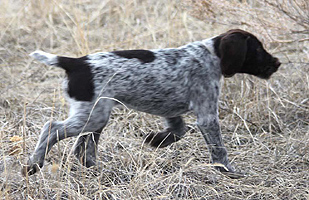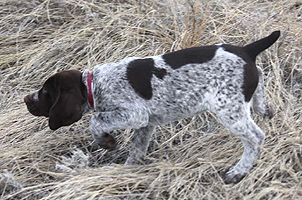 Priscilla's Litter of 16 born Dec. 28, 2012! All have been sold.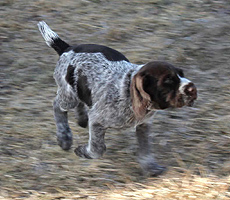 Visit our facebook page for more videos and up-to-date photos!
Pictured in above video with "Grandma" who is helping Priscilla raise this very large litter!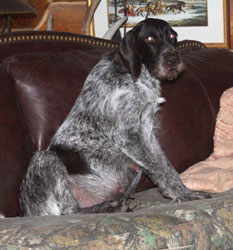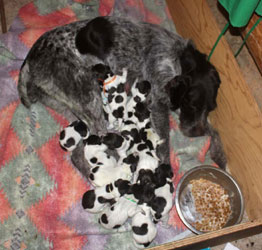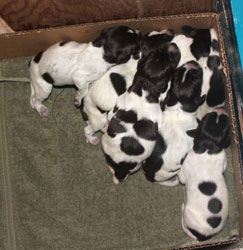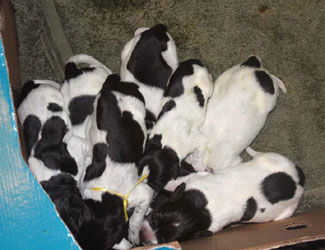 Priscilla delivered 16 puppies 8 boys and 8 girls. They are healthy and robust. Pups were born on Dec 28th

NEW OWNER TESTIMONIALS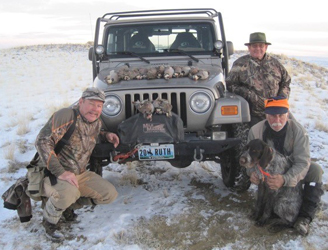 "We are headed towards the end of Rosa's first bird season and what a season it has been for her. She has been hunting like seasoned pro, she points, retrieves and hunts dead birds with a precision you generally only see in an older dog. She has 61 wild chukars to her credit, 13 wild pheasants and 5 sage grouse and the best is that she is such a loyal companion/member of the family. I can not thank you enough for such a great dog. "

Owned by: Dave & Patty Tyrrell








---


10-11 Month old Nellie Ree (a Priscilla/Dozer pup)

"She was running along full tilt when she caught sent of game bird. When she got the sliding momentum stopped she held a beautiful point. Amazing natural instinct! She locks up hard!"

Owned by Mike Mickelson
Rooster Ridge Pheasant Farm at French Town MT

---

"I am a fly fishing, waterfowl, and upland guide in eastern Montana. I recently bought one of the pups (Bailey) at 7 weeks. She turned 13 weeks yesterday. I just wanted to share a quick story about my new pup Bailey. We were in the field for the last five days hunting. We had had a very good morning filled with pheasants, sharp tail and chukar. I try and let the puppy run for at least part of the afternoon and let her burn off some puppy energy and start getting the feel of her new job. Yesterday we were one pheasant and 6 little birds away from our limit for two people. We decided to hike up a draw we let out Bailey's best friend Reno a Britney and headed out. We ended up finding and shooting our pheasant rather quickly. We hiked around in the draw for about another 30 minutes before finding a covey of chukar out in a field. We shoot 3 out of it and the rest flew back into the draw we had hunted up. We decided to run the draw back down and killed 2 more quickly. As we were walking my client looks at me and says hey the puppy is on point. I look over and see she that she is. She loves to point at leaves and anything that blows in the wind. I started to tell him that and notice my Britney on point down in the draw. Right then a single chukar flushed and went down. I don't know if it was her first find or her first back but I was grinning with pride for the rest of day and night. I just wanted to share that. I think she is going to turn into a great dog."

UPDATE AT JUST UNDER 5 MONTHS OLD: "I went and worked just her today she had 6 finds with 4 hard points and 4 full retrieves - one 30 plus yard retrieve."
~ Andy

---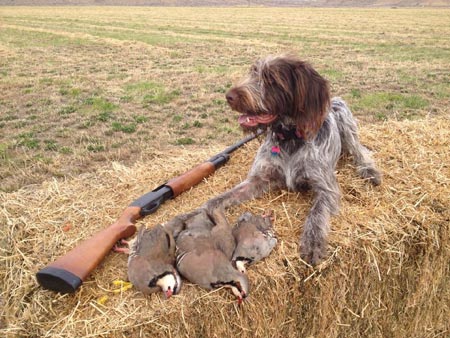 "Good Afternoon! We wanted to share with you our Saturday experience with the NAVHDA Natural Ability test with Shyster. Even though she is only 8.5 months old, we decided to give her a try. She did awesome! She scored a prize 2, and only 1 point out of the prize 1 category. If we were better handlers she would have easily made it to prize 1, but even at that, with boneheads like us, she did very well, and only 8.5 months old!

Her bite was good, her coat was medium dense and medium harsh, she did two excellent points during the search, and since we were so far away on the first point she snatched the chuckar when it started to move (after a more than sufficient time pointing) and brought it to us without any calling. She had tremendous prey drive too, and tried to chase down the same chuckar after we dropped it and it flew off. She held her second point for at least 10 seconds as I came up to her to leash her since we were done with that test. For her tracking test, she took a good smell of the feathers on the ground, then headed into the grass. In less than 3 minutes she found the rooster and brought it back to me, again without calling. Only two dogs out of 9 actually found and retrieved the bird and Shyster did it in much less time than the other one. Everyone in the group was impressed, but none as much as Sandy and I. Of course she had no issues with the water since we exercise her in the river. Her only water problem was that she didn't want to quit after only two water retrieves.

Your suggestion to join NAVHDA was tremendous and we will recommend the same to anyone who wants to get good help with their training. We ended up joining the Wasatch Chapter in Salt Lake since it was the closest to us and an active chapter. For us, we are now waiting until the 21st of this month and we are going to try her out on the real deal, sage grouse. We'll do some more training between now and then, just to keep her fresh on what she needs to do.

She is a great dog and we are so pleased to have found your site, you, and your fantastic kennel. Besides being a very naturally talented dog, she has become a very solid and loving family member. Some people say you can either have a pet or a hunting dog, but with Shyster we have both, and we are very happy.

We thought you would like to hear the news. We'll post a couple photos and a shorter write up on your Facebook page too.

Hope all is well with you. We are enjoying the photos of the new puppies too, keep posting them please!"

Take Care,
Brian, Sandy, and Ellie Taylor
Please do not hesitate to contact us if you have any questions or comments.
We look forward to hearing from you!
info@djbarranch.com

JEHNET CARLSON
5155 Round Mountain Road, Belgrade, MT 59714
(406) 581-7443 (voice calls only, NO texting)
info@djbarranch.com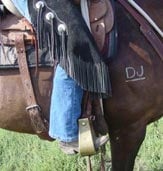 Click here for directions to DJ Bar Ranch
Copyright DJ Bar Ranch. All rights reserved.
This site is proudly hosted and maintained by
Big Sky Internet Design