Long after the onset of the "Horse Crazies", I got my first horse at age 13. I was active in 4-H and showing. I have always been one for doing everything a bit of the out of ordinary. After being injured as a recruit fire fighter I went to horseshoeing school. At that time I was enjoying trail riding my horses in the Cascade Mountains in Washington. After shoeing awhile in the greater Seattle area I decided to see what the rest of the world was like. I spent a summer on the racetracks in California, but that was too much like City life so I headed down the road.

As a farrier it was always easy to get a job on a guest ranch, so I worked ranches in Wyoming, Colorado, New Mexico, Arizona and Montana. For a number of years I cooked in a hunting camp, in between the summer guest season and winter in Arizona.
I am an avid bird and big game hunter. For the past 20 years during the summer I have ridden the Chief Joseph trail ride that re-creates the 1,300-mile trek of the Nez Perce from Oregon to Northern Montana. You can count on seeing me at Montana Mule Days in Drummond and the State Appaloosa Show held in variety of Montana cities. My favorite classes are the Heritage class in which I dress up as Calamity Jane or the driving class in which I dress in authentic Norwegian costume and drive my cart and mule. My mule Lacy and I were also in the movie, "Far and Away".
Currently my life revolves around raising mules & horses, travel. While out on a ride if you would like Jehnet may treat you to killing a snake with her lead rope and bringing it back to skin and tan for the kids to take home while you can enjoy o'dovers of rattle snake that night.
One of the long time natives in the Dry Creek area tagged me, "Rattlesnake Annie". So whether it is Rattlesnake Annie, Calamity Jane, or going to the Symphony in Seattle one never knows where or the circumstances in which you will see me next.
As you can see from this web site, I really love photography. With very few exceptions all the pictures on the different pages were taken by me.


JEHNET CARLSON
5155 Round Mountain Road, Belgrade, MT 59714
(406) 581-7443 (voice calls only, NO texting)
info@djbarranch.com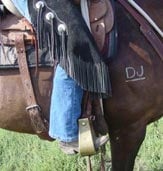 Click here for directions to DJ Bar Ranch
Copyright DJ Bar Ranch. All rights reserved.
This site is proudly hosted and maintained by
Big Sky Internet Design