The Ericksen Mountain Saddle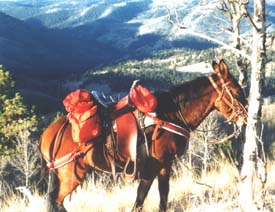 All of the saddles are handmade from Hermann Oak skirting leather. It features braided rawhide on the horn and swells laced slots in the cantle are lined with rawhide as well. It makes for a nice looking saddle that is very durable.

There are seven large 1 ½ inch Dee rings attached with rawhide so there are ample places to attach rifle scabbards, cameras, tie ropes, cruppers, britchin, or whatever in secure manner.

We cut slots in the cantle which are called "Santa Fe" slots after the old mountain man type saddle. These are good for tying on big game or extra packs.

These saddles are constructed with Ralide trees. It is an Improved Association style with semi quarter horse spread to the bars. Saddles can be ordered in sizes 14"-17" with your choice of a 4"or 5" cantle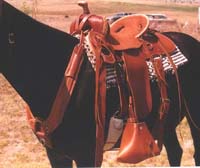 The rigging is a custom designed 3-way in-skirt rig to enable the easy movement of cinch position from 7/8, to ¾, to center fire in just seconds, without the hassle of unlacing anything. This rig cuts down on the weight and bulkiness, giving freedom of stirrup leather movement. It gives close contact with your riding animal, yet does no sacrifice strength. In the rear it features a double ring that allows you to move your back cinch further back.

Using the "Blevin's" quick change buckles on the stirrup leathers. All stirrup leathers are pre tuned prior to oiling so that they will stay in the proper position. The stock stirrup is the mountain tap. It's is an overshoe sized stirrup with western style hood which will accommodate snow packs and hunting boots with safety.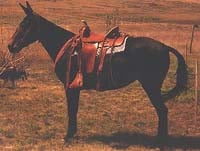 Each saddle comes with our hand tied Trail/Packer Cinch. It has 21 strands, and is made 30" long (other length's can be made by request) It has 1 1/2 " D ring and each buckle, great for tying on a load

The saddle weigh between 32 and 40 pounds, and are shipped with all latigos and cinches, so they are ready to ride right out of the box.

Rick also features several other tack that is designed with comfort and freedom of movement of you mule. Mule Breast Collar, which is designed to fit their conformation. The Britchin is all leather adjustable, and now with skate type buckles, rather than Conways. The Crupper is a flaxseed filled tail piece hand sewn to a wide strap, no buckles on the lower end to catch tail hairs. It helps to keep the saddle in place over rough terrain. All of the mule tack works great on Horses as well!
*Please click on images below to view larger image in new window.