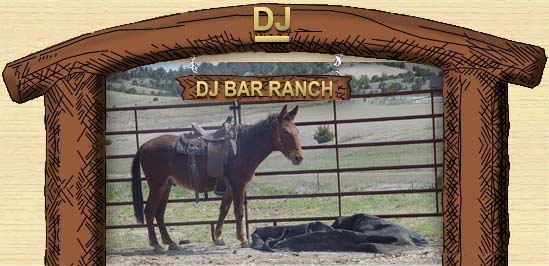 What's New
5155 Round Mountain Road, Belgrade, MT 59714
(406) 581-7443

info@djbarranch.com

VOTE FOR US!!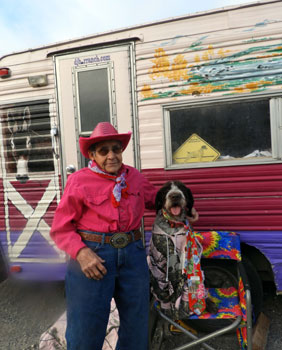 I have entered a photo contest in Honor of National Breast Cancer Awareness Month. Please go to this link and hopefully vote for me! :)
http://krtv.secondstreetapp.com/Tickled-Pink-Photo-Contest/gallery/80124867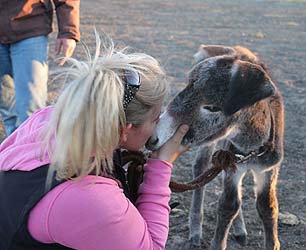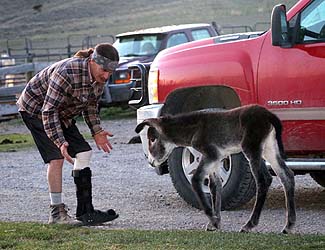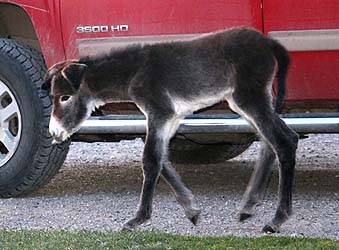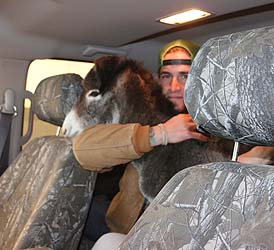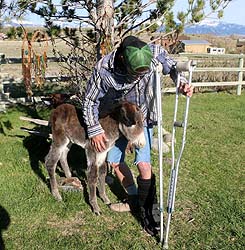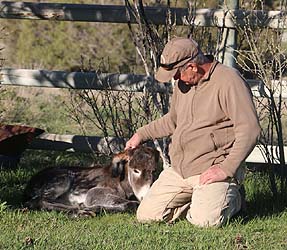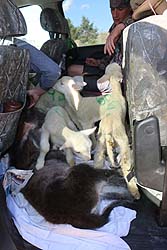 DJ Bar Ranch will be going in another direction and raising Donkeys. In general Donkeys are very gentle and easy to handle. Maxamillian breeding days are about over due to arthritis in his hips. I have hopes to get 6 jennies bred to Max to carry the Black Bart line on. We will also be bringing in two nice jacks for breeding until we can raise up our own. Ozzie was on the show circuit the year after Max was showing and won halter classes at Bishop Mule Days and Hells Canyon Mule Days. He is about 15.1 hands tall and will be on the ranch in May. His stud fee will be $500. I will also be bringing home a young spotted smaller mammoth jack. He has not bred mares but hope to be getting them both going on the phantom.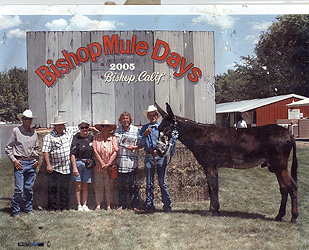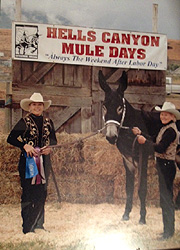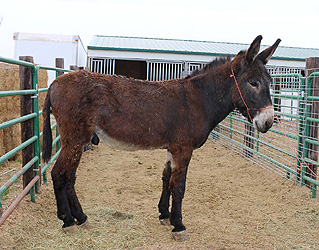 "Ozzie"

Ready For Breakfast!


This year's colts are in cooperation with Timberlake Mules and their Jack
Really Dun It - a.k.a. Artie www.timberlakemules.com

Well summer is getting towards the end and hopefully cooler temperatures are in the future. The interns have all gone home with a great summer of experiences, check out the intern page to see what we all did. Now it is just Steve, John and myself here along with Ace from Anaconda. He has been working the mules, he took Steve Edwards clinic this summer and is turning into a mule lover for how smart and easy they are to work with. We will be headed South this winter. We have also been helping the neighbor with his Wagygu Cattle http://stores.montanawagyu.com/StoreFront.bok moving them around from pasture to Pasture a great experience for the mules.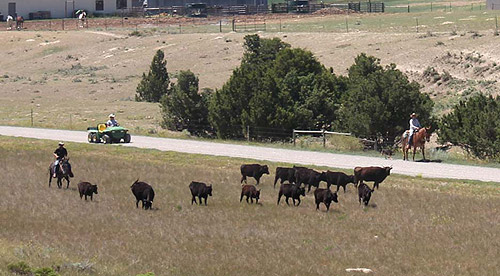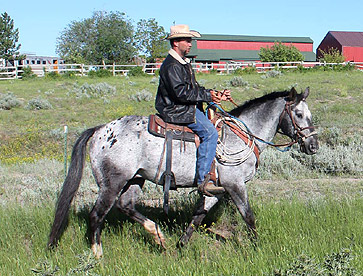 Steve Hyer who has lived with Jehnet for the last few years was down at Queen Valley Mule Ranch with Steve Edwards working with 4 5 year olds. Steve was a very inexperienced horse person so they are all starting from scratch. The mules he worked with were:
2 Big Brown Mollies - will make a nice team prospect Black Betty and Bonnie
Belle - a very pretty black molly
Mica - a quiet mule that was started last year.
We are looking forward to seeing some sights and going jevalina.
Call or email me for up dates on how they are doing.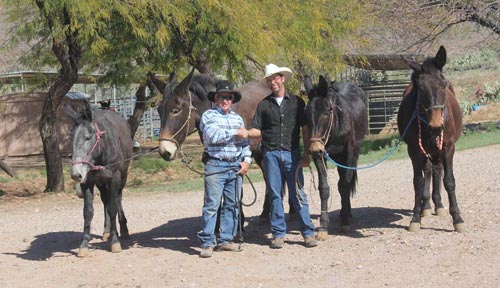 Well I am finally getting the rest of the colts and mares off the mountain pasture. Pepper is due this month.

They didn't want to cooperate so Rick got his cattle dog and he did the trick but wasn't to sure what to think when the mules came to investigate him.

We have had a great spring with lots of thunder showers to keep things green here. Gallatin County Fair will keep us hoping next with Jay participating with his horse Bandit.


December 21, 2007: Max went to school today. The Manhattan school district had a book sale to benefit the library. They had to sell more books than last year for the principal to kiss a Donkey. He lost the bet.

340 students K-8 plus probably at least 20 more people including the Belgrade and Bozeman newspapers attended.

When the librarian made an announcement they were still short 50 books of the 450 they had to sell, the last two hours there was a big rush and sold over 500. The librarian was sure it was being able to see Scott Schumacher kiss "an ass".

As you can see by the schedule below he wasn't allowing much time but was a great sport and even brought flowers, I guess he thought he was going to kiss a girl donkey!

We let the students vote which end he had to kiss and you can imagine which one they voted for. ;)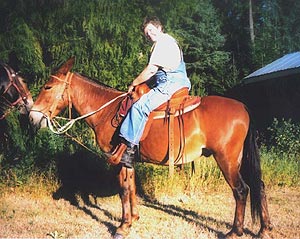 Well spring has sprung, I have been gone alot helping my boyfriend out who died of cancer on February 17. I am home now and have 9 mares home bred April and May half to the Brazilian Jack General so anxiously awaiting my foal crop this year. I then have a bunch more bred in June/July while my interns from the Scotland Vet School were here. There are just 4 yearlings left and they are all looking very nice.

Rafael from Brazil will be back going to horseshoeing school.
Pictured above is a photo of Bonnie Sheilds on DJ one of my mules who she says
"she loves and he is very sweet people pleasing little mule"

http://www.bonnieshields.com/

I also just want to thank all my neighbors and friends who have helped me out during my time of difficulty and absence. I live in a great neighborhood!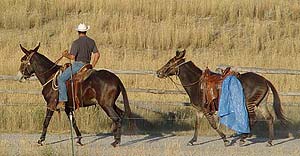 Fernando's latest project is a Zorse. He is leading the zorse from Festus, a broke gaited mule that is for sale. Click on images to view larger.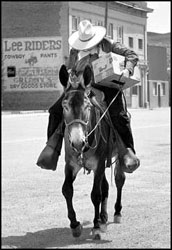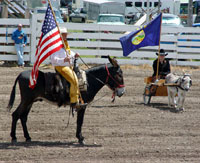 Just a quick note having just returned from Montana Mule days we ended up Grand Champion Jack and overall Champion Donkey at halter. Also accumulated high point youth donkey, high point performance and reserve high point gaming and overall high point Donkey, Robbie was also high point youth mule with Becky. I won best costume and Robbie got best youth Costume in the Parade and then had the privilege of being asked to carry the American Flag in the Grand Entry on Saturday.

Gorgeous Saddles!
Jehnet is the new sales rep for Ericksen Saddlery and will be selling some GORGEOUS saddles. Look for her at Bishop and Drummond to see and purchase a saddle. View our Saddle Page for some beautiful examples!

JEHNET CARLSON
5155 Round Mountain Road, Belgrade, MT 59714
(406) 581-7443 (voice calls only, NO texting)
info@djbarranch.com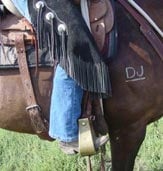 Click here for directions to DJ Bar Ranch
Copyright DJ Bar Ranch. All rights reserved.
This site is proudly hosted and maintained by
Big Sky Internet Design