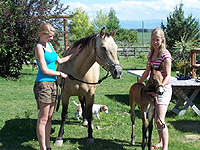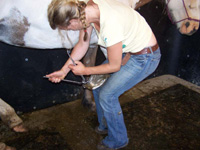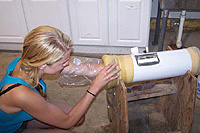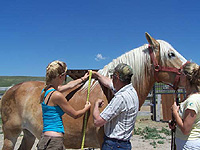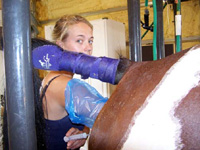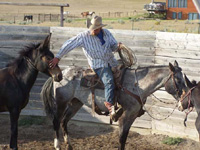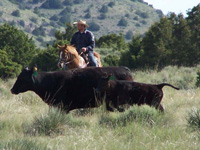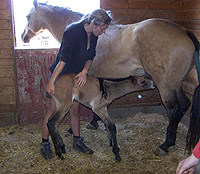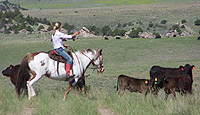 DJ Bar Ranch internship program involves several different possibilities that can include different areas of concentration. This will vary according to the time of year you choose. Areas may include (but are not limited to):
Foaling
Training
Breeding
Hunting
Fall Wrangles
Depending on what you choose the cost could increase to include clinics.
Here are some of the people I work with:
www.muleranch.com Steve Edwards Clinic is the third week of June.
* DJ Bar Ranch often has young mule colts that a student could start during the clinic with Steve. There is an additional charge for this.

www.jonensign.com Jon start colts and with interest a private clinic can be arranged for students.
* To start mules and colts prior equine expertise is required.
Foaling stalls are equipped with cameras so that I may be present for each foaling to imprint them. If you want to experience the miracle of birth, spring is the best time to visit. A DJ Bar Ranch experience is a hands-on experience and may include collecting semen and artificially inseminating mares. We also ship cooled semen.

The basic fee is $1500 per month to come and stay including room and board. If you desire more information than the web pages provide please contact us. We have the ability to handle up to 7 students at a time in dormitory like conditions. Some meals are prepared or at times students are on there own to fix their own meals with the food that is available. There is always a plentiful supply of wild game meat to eat.
We offer a laid back environment, and you will get as much as you put in, in return from your experience. The fee of $1500 covers food and lodging expenses only. Part of our costs is paid by you helping with daily chores of feeding, cleaning stalls, getting up early in the morning. You will in essence join a Montana ranch family and be expected to participate and clean up after yourselves.


The summer of 2006 was a huge success with Rafael, Marianna, & Fernando from Brazil, all veterinary students, Kat and Karlien, vet students from Scotland. Caitlin, who was here the summer of 2004, was in town this summer working at a local veterinary clinic and came out to visit a few times. While Rafael was here, not only did he participate in ranch activities, he attended Montana Mule Days, Miles City Bucking Horse Sale, Steve Edward's Mule Clinic, and a Buck Brannamon Clinic. He is looking forward to returning to Brazil with his new experiences in starting colts and practicing there. He does hope to return to go to shoeing school at Montana State University next year. His English has improved immensely during his stay as he arrived not knowing any English at all.

The students all experienced artificially inseminating mares, seeing many ultrasounds, castrating colts, floating teeth, and a local cattle drive. Additionally, they all had a turn at learning to trim feet, not to mention the usual sightseeing including the Livingston Rodeo and Yellowstone National Park.

This summer we also had Rafael's and Fernando's fathers visit us from Brazil and throughout the summer had many Brazilian Barbecues. Although language was a barrier we didn't lack in having fun together!

Book your reservations now to save a spot for yourself next spring/summer if you would like to participate in this learning experience. A 25% non-refundable deposit it required to make a reservation.