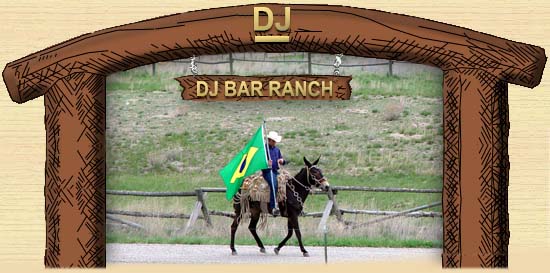 Summer at DJ Bar Ranch with Fernando Rolim
5155 Round Mountain Road, Belgrade, MT 59714
(406) 581-7443

info@djbarranch.com
*Fernando will be returning April of 2006 for his 3rd summer, bringing with him several Longears from Brazil and will be available to start colts this summer.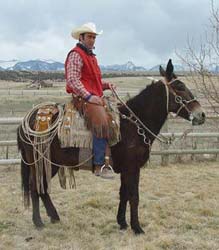 Fernando Rolim is a veterinarian from Brazil who loves donkeys and mules and has been training mules in Brazil. He came to the USA in August of 2004 to learn more about new techniques in training mules and donkeys. Fernando stayed at DJ Bar Ranch with owner Jehnet Carlson. He spent his time working with breeding and training of mules and visited several different trainers in the US, including Monica Erman, Jon Ensign, John Lyons, Josh Lyons, Meredith Hodges, Steve Edwards, Brad Cameron, Van Hargis, Val Geissler, Walter Becker, Manoel Garcia, Jack Eden, Donna Reimer, and Deloit R.Wolfe.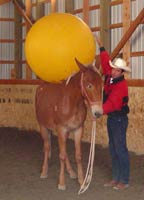 Fernando started some mules for packing and riding at DJ Bar Ranch. He worked with mules Custer and Ebony, and after one month of work with Ebony won several ribbons at the Enterprise, Oregon Hell's Canyon Mule Days. Custer was sold in Idaho. Several people showed an interest in Fernando's methods of working and training mules. They shipped their mules to DJ Bar Ranch where he spent several months working with them. All of the owners were very satisfied with what he was able to accomplish with their animals.
In his time in the US, Fernando also was dedicated to improving and bettering the relationship between mule people in Brazil and the US. Fernando has joined the ADMA and will be a Representative and Inspector for the American Donkey and Mule Association in Brazil. He also attended an AMA American Mule Association Judge Clinic. After taking classes and tests, he is now a judge and member of the American Mule Association.
Fernando was invited to come back to the US to demonstrate more about his communication with mules. He will return to the DJ Bar Ranch and spend August and September of 2005 training mules there.
Fernando's words:
"My experience in the USA was wonderful. I learned a lot from various people, about many different techniques related to packing, driving, riding and training equines. I am so grateful for the opportunity to have met so many people during my stay in the United States and principally to Jehnet Carlson for everything she taught me. I look forward to returning to Brazil where I can share my wonderful experience in the USA with mule people".
Testimonials: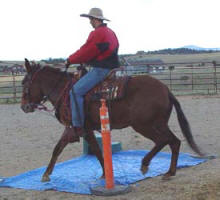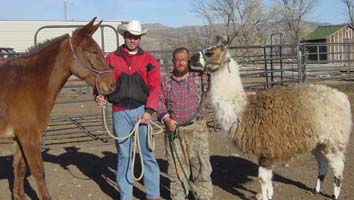 Words from John Olson, Tess' owner:

"The first time I saw Fernando he was riding a mule that the owner had been having trouble with.... he wasn't just riding the mule, he seemed to be part of it. The mule was enjoying the ride - his ears forward, focused on her job, obviously trusting Fernando 100 %. I knew immediately I wanted him to work with my 5 year old mule Tess that I had owned from birth. Tess and I had seemed to reach a point in our work that we could not get past. Despite doing ground work and giving her attention, she accepted new things with difficulty (unlike her half sister). I was not able to saddle her.... I am sure my inexperience played a large role in this as she was unwilling to trust me. Fernando took Tess and within three days was riding her outside of the round pen and giving her the confidence to accept new things. After two weeks of training, she came home for a few days more relaxed and seeking my attention. Tess went back to Fernando for two more weeks and when she came home for another break, she had been shod. Trusting new people had always been a problem, so I saw this as one more step forward. During the last part of her training, I rode her and began the next phase in our relationship. Fernando has given us this chance, when other professional trainers had not been nearly as successful."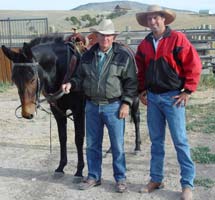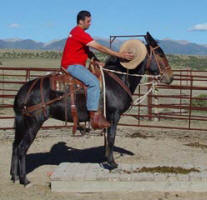 Jim Grube, Abby's owner is a senior citizen who is very satisfied riding his mule after one month of training by Fernando. "He did an exceptional job on Abby - better than I ever could have because he spent a lot of time and put the miles on her. I definitely got my money's worth."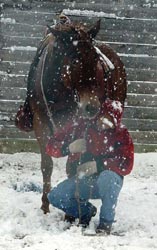 Chester is another mule Fernando worked with. He is a 7 year old John mule, who had been started some time before by another trainer. The owners heard about Fernando and they brought Chester to him to train with the intention of selling him. It was a very snowy day as they watched Fernando working with the mule. In a just few minutes he had established a good relationship with Chester: he could touch his ears, pick up his feet and the mule clearly began to trust him. A few minutes later Fernando was walking, trotting and galloping him without bucking or any real resistance. The owner was very impressed and decided to leave the mule with Fernando for more training. Eventually, he decided not to sell Chester.

Words from Chester's owner:
"Watching Fernando work, I was really envious of his ability with a mule. He accomplished more in less than an hour than I had been able to the whole time I've owned Chester. Fernando has a quiet, gentle manner and seems to establish an unseen communication with an animal. Anyone who is fortunate enough to have Fernando work with their animal is lucky, indeed."

Imprint Training

At DJ Bar Ranch we imprint train all the babies born here. Fernando is practicing Dr Robert Miller's methods here with the 2005 foal crop. Click on images to view larger.
Here is a group of photos with Fernando and students from MSU reproduction class instructed by Shannon Mourioux DVM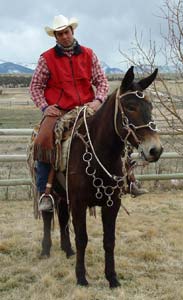 Watch for Fernando and Ebony showing at Bishop in 2005
(click on images to view larger in new window)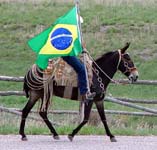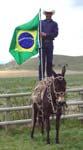 First time working with the flag. As you can see Ebony took it all in stride!

Photo Gallery:
(click on images to view larger in new window)
**DVD or Video available for $10 showing Gaited mules and Donkeys in Brazil at Criatorio Campeas da Gamaleira. Contact us for more information!